Fr. Patrick's eulogy for his mother, + Lenna Katherine Kinder (Baba Jo),   8-24-1928 — 3-3-2014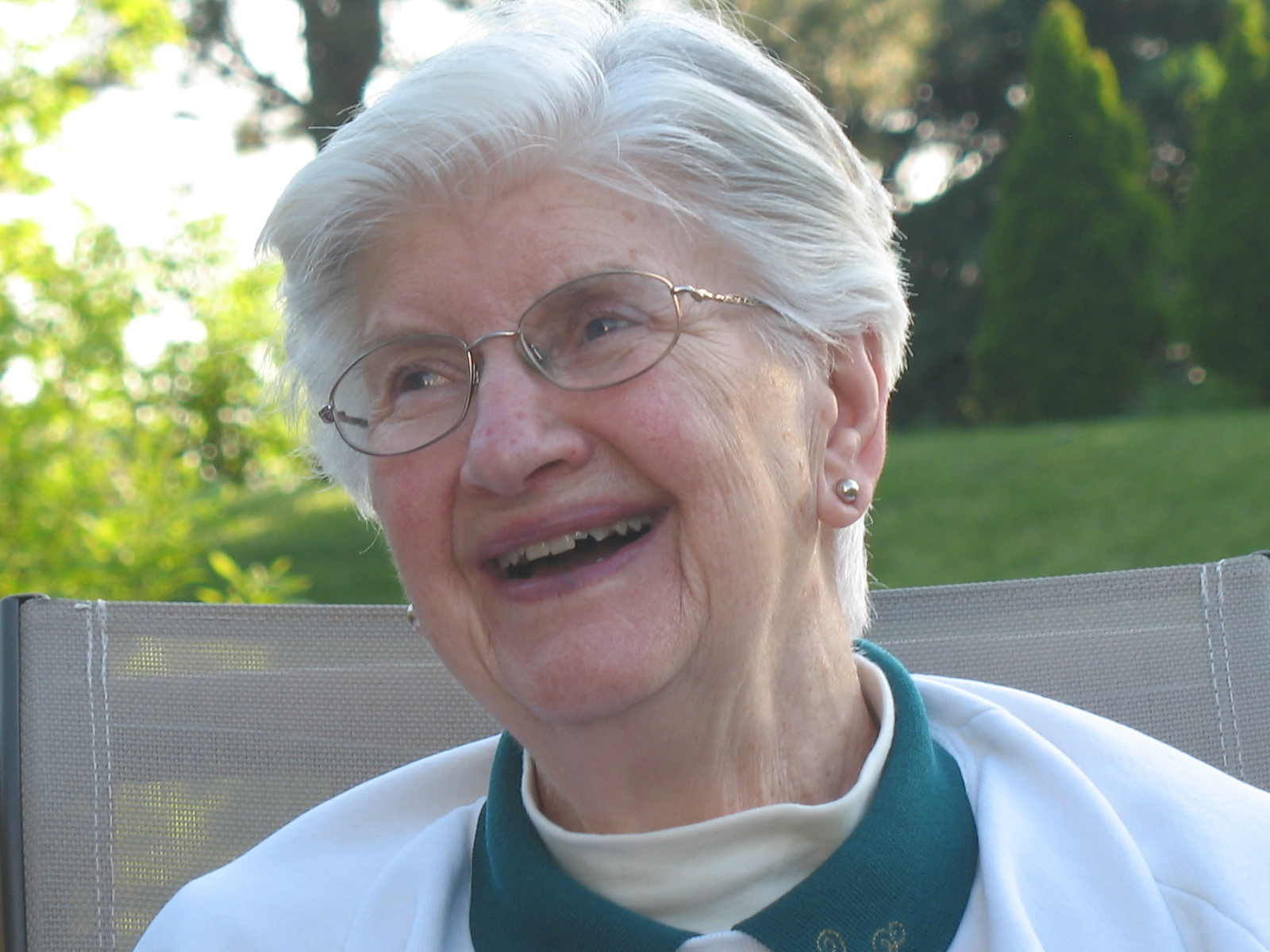 "God bless you, God watch over you, God protect you from any harm, and God love you.  And I know He does – and so do I!"                                           – Baba's bedtime prayer for her children and grandchildren
From all the notes I've received since the announcement of Baba's stroke on Saturday morning and her death on Monday (there are more than you can imagine – all pretty much saying the same thing) I wish to share with you the following:
"Dear Father Patrick, Kh. Vanessa and Anthony – we feel Baba's loss deep in our hearts, and are so grateful for the privilege of having known her.  She was a holy woman.  It was easy to see Jesus in her face when we looked at her – and, as Maya said this morning, she always saw Jesus in us."
I apologize to everyone (else) who sent words of love and kindness to me and my family at this time of our "bright sadness," I apologize for not choosing your words to open my homily today honoring my mother, our mother, our Baba.  These chosen words came from Jenya (Bowker) – and more specifically from (her daughter) 10 year old Maya – on Tuesday morning after Baba died, and after the tears stopped flowing from my eyes I shared Maya's words with Kh. Vanessa; and after her tears stopped she promptly said, "There's your sermon."
There have been many memories and thoughts passing through my mind and heart over the last many weeks and months as I've watched Baba's physical decline.  The question asked and the answer received has been the same for quite some time now: "How are you today Baba?"  "Tired! Tired!  Tired!"  This woman of great power had – at least physically – become a mere shadow of who she once was.
I do not wish to trouble you today with many personal memories, though we as her family certainly have the most stories to tell, it is my guess that each one of us here have similar, rich stories of times spent with Baba.  God-willing there will be opportunities in the days and weeks ahead to share those memories – maybe even a little later today there will be time to share over a Brandy Manhattan, or as Baba would say, "a little hooch."  Today I do want to trouble you, however, with a few thoughts on the greatness of a woman whom I can only say that I was lucky enough – blessed enough – to call "Mom."
As a child, as a teenager, as a young man, as a newly married man, as a priest, as a father, and even now into middle age (gulp!), it has taken me this long to finally figure out what it was that Baba tried and tried to teach me over the years: this one thing that absolutely came so natural to her.  It wasn't her love for food and a good celebration.  Her family easily picked up on that!  It wasn't the cultivation of a good work ethic.  Admittedly as the spoiled youngest child of four I'm certain that some might still wonder if I've learned that.  It wasn't the need for public praise or prestige, money or material possessions; the urgent need for a great education or to know the "right" people.  None of our family have to my knowledge ever felt that way, and certainly not Baba.  What was that one thing Mom sought to teach me?  Let me illuminate with one story:
In our house growing up the kitchen waste basket was kept in a doorway corner that led to our bedrooms and the bathroom, just to the right of the basement stairs.  In other words, it was pretty much right on the way to everything and always in sight.  I do not recall it ever being "set" whose job it was to empty the trash.  A turn would be taken, and then another and then the next.  A paper grocery bag would line the waste basket and when it was full it would be taken out.  There were times, however, when bag would be full and a second bag would appear on the floor next to the basket.  I remember more than one time when the second bag would be full and a third bag would also appear, at which time – at least for me – I would find myself walking all the way around the inside of the house just to avoid passing by the growing mess – especially if Mom was in the kitchen, or anywhere nearby.
For those of us who know Mom, this was a recipe for an unpleasant moment.  She would take the mess for a while, maybe even a day or two, after which, if nothing was done, her wrath would come uncorked!  It might start with the slamming of a cupboard door (or two) or it might start out with a little expletive: "Can't anybody see that the trash needs to be taken out?"  Well, you can imagine where it went from there.  Let me just say, no matter how much I/we may have pushed back, Mom always won!
"Can't you see?" are the words that have been ringing in my ears for many, many years; even recently in the priesthood she would point things out to me that needed to be done, things I just didn't see: from my family to my church, to many other things.  I hope one day to be able to see what Baba saw, and not only that, to have even a small portion of her second great gift: an ever-readiness to respond.  From being available to talk when anyone needed her, to being ready to serve when the sleeves needed to be rolled up, to obsessing over buying goofy little Christmas PEZ dispensers for the parish children on St. Nicholas day.  For the rest of my life I will always need reminders to ask myself in any situation, I do not at all mean to be flippant: WWBD – What Would Baba Do?
Here I need to acknowledge that I do not doubt there are many unseen heroes in the world who have gifts similar to Mom, I just don't know of many of them.  Bishop ANTHONY's mother, Gospova, was another rare woman of untold dignity and wisdom.  Maybe it's one of many reasons why we became brothers and best friends.  The one thing that distinguishes women like Lena and Gospova, even in their mistakes and imperfections, is that their dignity is based in true faith and a deep love for God.  In the prayers we prayed at Baba's bedside after she died we heard the following words: "The course has ended, and having run to you, O Lord, (she) who is reposed now cries out: 'Remit my transgressions, O Christ God, and do not judge me when you come to judge all, for faithfully I have called to you: All the works of the Lord, sing the praises of the Lord and highly extol him forever!'"  And also, "Grant to your servant, O Lord, communion and enjoyment of your eternal good things, prepared for those loving you.  For although she has sinned, yet she has not turned away from you, and without doubt has believed in you: in the Father, Son and Holy Spirit, God glorified in the Trinity, and has confessed in an Orthodox manner unity in Trinity and Trinity in unity, even to her final breath."
Recognition of this ardent conviction and unwavering faith is absolutely essential for all of us who have known and benefited from the blessing of Lena: Mom's children, Baba's grandchildren, Nonie's nieces and nephews, Jo's friends, Baba's spiritual children, all of us who praise this woman lying here lifeless before us, to know that all the good that we praise in her, and all the love we've received from her, and all the stability that has sprung from in her, came from one and only one source: from God Himself, and her resolute belief in Him.  To Mom, anything short of this understanding would be a wanting at best.  Some called her "old fashioned;" I simply call her, "Christian."  In an age where morality no longer seems to matter Mom held fast to the Truth – to her final breath – even when some of those around her laughed.  This great faith aroused in Mom the great love that radiated from her; as well as her joy, her simplicity, her childlike silliness, her unpretentiousness, (except possibly when I was ordained to the priesthood and she approached Bishop DEMETRI and asked him, "Your Grace, you have a title, and now my son has a title, don't you think it's fair that I have a title too?"  He thought for a moment and then answered, "You do have a title, you are 'Im'el Khouri' which in Arabic means, "Mother of the priest."  He made her as happy as a little girl, who just got a bowl of her favorite ice cream; and we know, without ever mentioning it, she took her title very seriously).  Mom was always and urgently ready to welcome anyone, especially in the most tender and needful of moments, even those with whom she may have disagreed, and always without self-righteous judgment!
Simply put, Mom had a way of seeing the best in everyone.  And everyone who knew her, even just a little bit, felt her acceptance: unconditional and massive!  Here are several examples of words of praise from many of you about your beloved Baba Jo:
– Baba Jo was such a great person and we loved her so much.  She was shining from the inside…
– Your mother was a very special person.  Her dedication and generosity were exemplary.  Her love was matched by her self-respect.  Her smile is imprinted in my memory.
– I'm very sad to hear about the passing of Baba. She was kind and loving beyond words.
– It is with bittersweet emotion I read of Baba's passing. Just looking at her beautiful smile how can we not be touched! As I need not tell you, she was an amazing lady who touched so many lives with her love, readiness to listen and sincere care for all of those around her. But most of all it was her humor, openness and willingness to be vulnerable that made her so approachable and a Confidante for many!
– We are so sorry to hear this!  Such a wonderful and caring person who reached out to all around her, making us feel welcomed and loved.
– She was far to present to ever be absent.
– I'm very sorry to hear about Baba Jo.  She possessed the sweetest and kindest soul imaginable.  I have many fond memories of her.  The world lost a very tender heart.  We will all miss her dearly.
– Please except my condolences.  I am sorry for your loss.  We all lost her.  You lost your mother.  We lost our Baba Jo.  We all loved her…
– Memory Eternal!  Baba Jo was the Baba of all of St. Ignatius.
– ..we have all along considered (Baba) the Matriarch of our Church family, so too we are a part of this blessed family…
– She just took people into her heart and there was always room for more.
– One said of Baba, "She was the kind of person you feel like you knew for your entire life," and the other replied, "yes . . . and you wish you actually had!"
– And finally, how can we not repeat Maya's words which began this moment of joyous reflection: "She always saw Jesus in us."
I am overwhelmed by the sentiment of those who love my mother.  Thank you!  And on behalf of my family Jake & Charlie, Mary & Wayne, Jody & Ed, Kh. Vanessa, and all of Mom's grandchildren and great-grandchildren, please accept our deepest gratitude.  For love is always a two-way street; and you all gave to Mom as much as she gave to you.  In this little corner of the world God's Light has shown brightly, and while it may be just a shade dimmer today as we say goodbye in the flesh to this luminous woman, the way we carry forward in life, lighting the world around us, will always validate the faithfulness and love of the newly departed servant of God, Lena Katherine.
If you would indulge me just a bit more I would like to share with you one story from last Saturday at the hospital.  I kicked my family out of Ma's room under the guise of wanting to spend some "priestly" time with one of my "parishioners."  Selfishly I really wanted to spend some alone time with my Mother.  It was only 20 minutes, or maybe 30, where I had the chance to say some things that I've said many times, and some things I wish I would have said while she was still well.  Mom was still responsive with smiling movements on her lips, at times seeming as though she were trying to speak, raising her eye brows, opening her eyes slightly to see who was there or maybe who was standing, waiting on the horizon, and squeezing with her left hand to let us know she was still with us and understanding what was being said to her.  I told her that I loved her and that she should not be afraid to leave us.  I told her that her work was complete and that she is leaving a life and legacy of a job well done.  Her family is united and she has taught us – so very many of us – how to love God and how love each other.  I told her that in Christ and His resurrection we will never be separated and that soon she would be reunited with her loved ones, with her mother, my Grandma Jo, and especially with Dad, her one husband – now of 65 years.  I asked her to pray for us and assured her of our prayers for her.  And finally I said, "Soon, Mom, you will be reunited with Dad, and the two of you will be singing together again in the choir, worshipping God with all the Angels and Saints."  I paused for a moment and squeezed her hand; and then I leaned forward and whispered somewhat loudly, "Mom, just be sure not to complain if there aren't any pews."  Her eyebrows jumped and the left side of her mouth grinned and she gagged out one laugh.  In that moment we laughed together for the last time.
Thank you for everything, Mom.  I love you so much!  God be praised!  I (we) will miss you more than can be imagined.