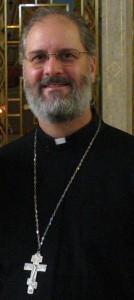 **After 18 years serving as priest of St. Ignatius, and two or so years prior in the unknown developmental stages of this "mission," it was announced to the parish by His Grace Bishop ANTHONY, on Sunday, December 14, 2014, that Fr. Patrick will be given a six month leave of absence for a time of rest, reflection and restoration.  Following this leave Fr. Patrick will be reassigned.  The Rev. Fr. Gregory Jensen has been appointed by His Eminence, Metropolitan JOSEPH, as Interim Priest.  Fr. Patrick is very grateful for the honor of starting and serving St. Ignatius parish and its parishioners, and for this bittersweet leave of absence.  And he is very grateful that St. Ignatius has been assigned a very fine priest to lead the parish into a new phase of work serving the Madison area with the Good News of Jesus Christ in God's Holy Orthodox Church! **
Fr. Patrick is a native of the Madison area, having grown up in the City of Monona, a southeast suburb of Madison. As a "cradle" Orthodox he was baptized and raised at Assumption Greek Orthodox Church in Madison. After graduating Monona Grove High School in 1978 he began his college studies in Music Education (and basketball) at the University of Wisconsin at Platteville. After transferring to U.W. LaCrosse for the spring semester of 1981, he went through a period of discovery, encountering his Orthodox Christian faith and roots really for the first time independently of his family and his home church. He began attending St. Elias Antiochian Orthodox Church in LaCrosse nearing Pascha of 1982. Joyfully, he knew that he had found the place his heart and soul had been searching for. By the time 1984 had rolled around Fr. Patrick had graduated U.W. LaCrosse with a degree in Business Administration and had become very involved at St. Elias. He was also beginning to look for other ways to serve the church. He began writing Christian folk music from an Orthodox perspective. In 1985 he was accepted to be a counselor at the Antiochian Village Youth Camp in Western Pennsylvania. Serving as a camp counselor would be one of the most spiritually inspiring periods of his young adulthood, and it was there that he would meet Rick Michaels (now Fr. Anthony), who would become a best friend and brother, and Alan Shanbour (now Fr. Michael), two young men also working in contemporary folk music. Eventually these three young men would found the pioneering Orthodox Christian music group KERYGMA.
Fr. Patrick earned his Masters of Divinity degree from St. Vladimir's Seminary in 1989 and from there spent the next six or so years continuing with the KERYGMA music and serving local churches in Nashville, Akron and Madison in various ways: chanting, Sunday school director, youth director. In 1992 Fr. Patrick returned to Madison to live with his recently widowed mother and to be near family. He accepted a job with the local school district working with high school students with disabilities. The summer of 1995 would be a turning point for Fr. Patrick. He would spend the summer working with his close friends, Greg & Margaret Yova, who had established Project Mexico and St. Innocent Ranch/Orphanage near Tijuana, Mexico. That summer he would become reacquainted with Vanessa Murray, the Youth Director at St. Athanasius church in Santa Barbara. Fr. Patrick and Vanessa were engaged on New Years Eve 1995 and married in June of 1996.
Shortly after Patrick's return to Madison in 1992 he began working with college students interested in Orthodoxy at U.W. Madison. Regular educational meetings ensued, after which people from the Assumption church also became interesting in attending. After about four years of regular, weekly Saturday evening meetings, a series of events lead to the thoughts of beginning a mission church in the Madison area. Both Fr. Patrick and Vanessa had a relationship with Fr. Peter Gillquist, head of the Department of Missions and Evangelism for the Antiochian Archdiocese. As the newly engaged couple began to make plans for their future Fr. Peter came to Madison to visit with the group thinking about starting a mission (a group of about 20). Fr. Gillquist was pleased with he saw and recommended that His Eminence, Metropolitan PHILIP, give his blessing for Fr. Patrick, Vanessa and the founding core to begin the formal work of establishing a new mission. In March of 1996, Saidna PHILIP gave his blessing. In July the newly married couple would settle in Madison. In October/November Fr. Patrick would be ordained to the deaconate and elevated to the priesthood and St. Ignatius Mission would celebrate its first Divine Liturgy on December 1, 1996.
The other joy of Fr. Patrick's ministry, after the miracle of St. Ignatius Church, is his appointment to be Director of Camp St. George, an inter-jurisdictional Orthodox Christian youth camp for the children of the Midwestern states. In 2005 Fr. Patrick will enter his third year directing CSG and is so thankful to be able to be faithful to the work and excellent leadership of the founding director of the Antiochian Village, Fr. John Namie (of blessed memory).
Fr. Patrick, Khouryia Vanessa and their son, Anthony, still live in Monona, just minutes from the newly constructed St. Ignatius Church building. Regarding the move to the permanent location of St. Ignatius' new home Fr. Patrick merely stated, "It's been a beautiful journey. After eight years of nomadic living we now have a new, beautiful and permanent home. Our St. Ignatius family has grown through the love of God, the love of each other, lots of commitment and hard work, and even some struggles. God's guidance has been and will continue to be the Light illumining the many wonderful memories of the times and the people, especially our beloved departed, that are fulfilled in the celebrations of these days, and that brings us only hope and surety of His grace for all that lay ahead in the continuing ministry of St. Ignatius Church. We are so thankful!"
* Fr. Patrick was elevated to the rank of Archpriest in April of 2007.